Global Financial Advisory Services provides personalized financial solutions that take into account all aspects of your financial life and offer guidance, clarity of thought, and expertise to help you gain confidence in a more secure financial future. We are committed to transparency and building enduring partnerships with our clients based on mutual trust, shared values and sound investment strategies. Together, we can create a comprehensive, long-term plan that reflects what is most important to you — your values, needs, concerns and hopes.
Step 1: Design a comprehensive plan to help you reach your goals
Step 2: Build your portfolio using scientific and academic research
Step 3: Protect your plan through regular contact, ongoing reviews and guidance
To learn more about our Design, Build, Protect approach, please watch the video or download our brochure.
Financial Planning
One of the most important components of any successful advisory relationship is truly understanding who you are. Your life is unique, so your plan should be too. Our collaborative approach centers on your future and is intended to help you gain greater clarity on your life goals and challenges. To do this, we will focus together on a number of important areas:
Today: What are your top priorities and goals?
Future: What plans have you made for the future? What values impact your views about the future?
Concerns: What kinds of financial issues keep you up at night? What are the biggest financial mistakes you've made or avoided?
We can help you clarify, prioritize and address a wide variety of goals in a number of important areas to create a Financial LifeMap: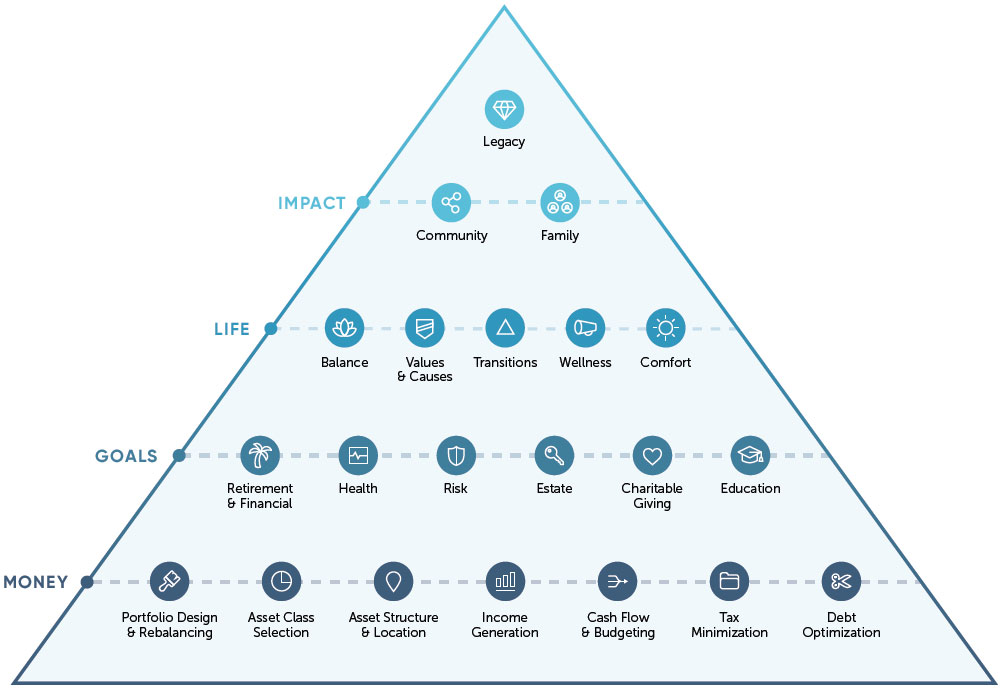 Investment Management
For most of us, investing is what makes it possible to achieve our lifetime goals. That is why we want to gather as much expertise on your side as possible. Our process incorporates the research of many great thinkers and economists, including pioneers in behavioral finance and 11 Nobel Laureates.
Decades of research show how you may be able to increase your probability for long-term success:
Find the right portfolio allocation between stocks and bonds
Diversify among international and U.S. stocks to help manage the volatility of your returns over time
Potentially increase your returns by investing in riskier companies, including small and value companies
Relationship Management
Keeping your plan on track may be the most challenging — and the most important — part of being a long-term investor.
There are several ways we work together to help you achieve your goals:
Rebalancing your portfolio to keep it in line with your risk tolerance
Providing you with ongoing education and guidance to keep emotions in check
Keeping pace with any changes in your life or goals through ongoing re-discovery
Continuously assessing your progress towards meeting your objectives
As a Registered Investment Advisor and Certified Financial Planner™ professionals, we hold ourselves accountable to fulfill our fiduciary duty at all times. We will always put or client's interests ahead of our own and all others. Our firm strives to deliver our services with a no-nonsense approach through straightforward understandable language. Please contact us to schedule a complimentary initial consultation and discovery meeting.